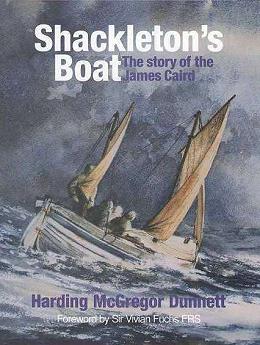 HOW TO ORDER A COPY
Shackleton's Boat - The Story of the James Caird by Harding McGregor Dunnett is available in hardback, price UK £20 + postage/shipping (price on application) from Pippa Hare, Neville and Harding Ltd., School Farm, Benenden, Kent TN17 4EU, U.K. Telephone: +44 (0)1580 240755, fax: +44 (0)1580 240960, e-mail: shackleton@cadenza.org (payment : cheque in pounds sterling only, please).
Alternatively from Central Books Ltd, 99 Wallis Road, London E9 5LN, U.K., telephone: +44 (0)20 8525 8840, fax: +44 (0) 20 8533 5821, e-mail: mo@centralbooks.com (main credit cards accepted : Visa, Mastercard, Switch, American Express).
The book is in large format (Crown Quarto, 25cm x 19cm) and includes 160 pages plus l80 photographs, drawings, diagrams and maps, many of them unique and not previously published. ISBN: 0 948028 02 5.
Order by sterling cheque
Order by credit card